Personal Computer
The basic and major requirement of the software is
| | |
| --- | --- |
| | The user owns a computer in a running condition. |
| | Mother board which contains the Microprocessor RAM, ROM, VGA card, that can be plugged into the expansion slots on the mother board. |
Memory
| | |
| --- | --- |
| | Memory is where the information and instructions are stored. Mother board should have atleast 16 MB RAM . |
Versions
| | |
| --- | --- |
| | Already installed any operating system, that is DOS version 6.22 and WINDOWS 95 or WINDOWS NT. |
Hard Disk Capacity
| | |
| --- | --- |
| | About 200 MB free space on your Hard Drive. |
Working on WINDOWS
If the user is working on WINDOWS 95 or NT the following flow diagram is followed
START MENU
RUN
D:\SETUP.EXE

Assume your CD drive has 'D' label

Using the Oracle Installer

Before beginning the installation process, you'll want to exit any open applications. To begin the actual installation, execute the Oracle installer by running SETUP.EXE, which can be found in \po7_win95\win95\install.

The Oracle Installer chooses to install all Oracle products into the c:\orawin95 directory. You can select another drive or directory if disk space on your C drive is a concern.

SQL NET Plus Installation &

Oracle Developer/2000 for Windows 95

The guide includes the following information:

- installation instructions

- contents of Oracle CD

- information about the Developer/2000 components

NOTE:

You should not be running any other Windows applications while trying to install new products.

Installation Instructions

Windows 95 and Windows NT 4.0

The Oracle Developer/2000 CD are normally AutoPlay-enabled for Windows 95 and NT 4.0. AutoPlay will automatically launch the Oracle Installer after the CD is inserted.

To disable AutoPlay, hold down the SHIFT key while inserting the CD. You then need to follow these steps to launch the Oracle Installer manually.

1) From the Start menu, Run

D:\SETUP.EXE

Substitute your CD drive letter for "D:".

Contents of CD

At the root level of this CD you will see this file and the following directories:

\EXTRAS

\FORWIN95

\FORWINNT

\PATCHES

Developer/2000 - Forms 4.5.7.1.7

Developer/2000 - Procedure Builder 1.5.6.15.5 Patch

GUI Common Files 2.3.6.11.0

Tools Utilities 2.1.10.7.0C

Information about the Developer/2000

Components

Product Compatibility

The table below lists the product versions that are compatible with one another.

Product Version

------------------------------------------------------

Developer/2000 Release 1.3.2

Forms 4.5.7.1.6

Reports 2.5.5.2.7

Graphics 2.5.7.1.0C

Procedure Builder 1.5.6.15.3

Translation Manager 2.5.2.3.1

Open 2000 Interfaces1.3.2.2.0

Oracle Terminal 2.3.6.0.0F

Discoverer/2000 Release 1.3.2

Browser 2.0.9.2.8

The Required Components table below lists the components that are compatible with the products listed above.

Required Component Version

---------------------------------------------------

GUI Common Files 2.3.6.9.0

Tools Utilities 2.1.10.7.0

System Support Files2.0.1.3.2

Oracle Book 2.2.3.0.1

Oracle Media Objects1.0.4.9.0D

Required Support Files7.3.2.2.0

SQL*Plus 3.3.2.0.2

SQL*Plus, Oracle Book, and Oracle Media Objects are only needed by some of the main products' components and will be installed automatically if needed.

Language Selection

The language you select when you install Personal Oracle7 for Windows 95 should match the language of the edition of Windows 95 that you are using. The edition of Windows 95 for your language must be a production version for the language to be supported by Personal Oracle7 for Windows 95. If your language is listed, then you should select your desire language. In this case, the user.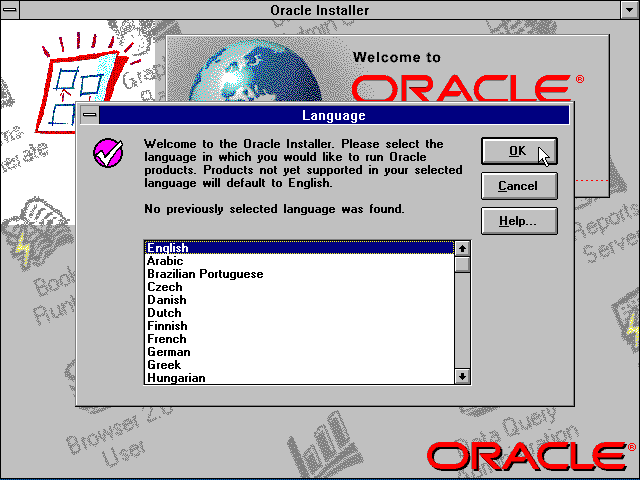 Disk Space Requirement
Personal Oracle7 for Windows 95 requires 20 megabytes of free disk space on the disk drive where the Windows 95 Virtual Memory page file is located (usually the c: drive) for a successful installation. This space is required in addition to the space needed for Personal Oracle7 program files. The amount of space required for the Personal Oracle7 program files is dependent upon the type of installation that is chosen.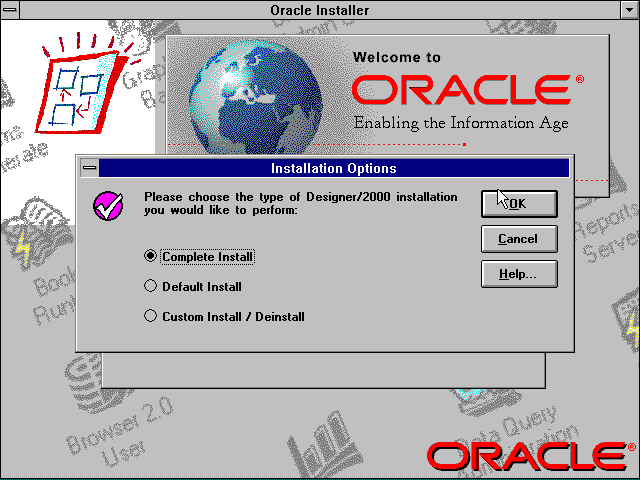 SQL*NET Easy Configuration
To avoid problems with networking, do not modify the TCP/IP sample files, TNSNAMES.ORA, or SQLNET.ORA. To configure a client to connect with an Oracle server that has been configured with Oracle Network Manager for Windows, choose Add Database Alias instead of Modify Database Alias in the SQL Net Easy Configuration menu.
Installation Components Windows
As you proceed with the Oracle Installation you will see the following windows illustrating the installed component on your Hard Drive.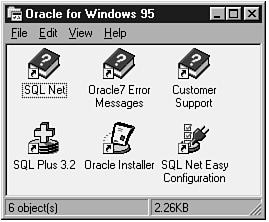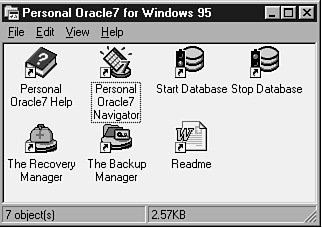 Successful Installation
After the successful Installation of Oracle you will view an indicator window such as

Create Shortcut
Create a Oracle shortcut on your desktop screen.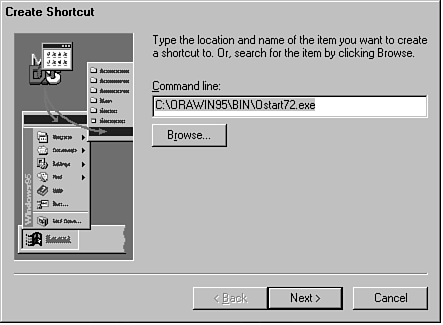 Restart Computer & Start Oracle
After installation you have supposed to restart the computer, after normal booting of your PC set active your Oracle database. The indicator window will prompt.

Oracle Icons