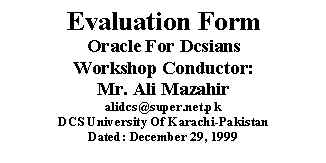 What were your thoughts about the Workshop before its commencement?
If some Fees would have been charged, would you be interested in joining the workshop of Oracle?
What are your opinions about the effectiveness of Course Outline?
What are your opinions about the participation of Guest Conductors in the Workshop?
Were the lectures, course materials delivered by Mr. Mazahir were upto marked?
What were the weakness in the lectures and practical class of Mr. Mazahir?
How did Mr. Murtaza Habib's presentation help you in developing your understanding about Advertisement & Marketing?
What are your opinions about Mr. Murtaza's verbal & non-verbal communication?
After the lectures on Accounting & Auditing by Mr. Murtaza, your initial concepts and knowledge have been built? What you say about that?
Whether the basic concepts of PL/SQL are clearly understood, after the lecture of Mr. Ameen? How?
As Mr. Ameen is quiet young, how would you evaluate his efforts and knowledge on PL/SQL and Oracle and teaching?
Workshop on Oracle has finished, How would you rank the progress of workshop? Has it achieves its objectives and goals?
As I am interested in the publication of workshop lectures, presentations & other materials on web and magazine, what services will you offer in this respect?
Whether such workshops should be held in future and what criteria for selection of candidates shall be adopt ?
What services will you offer in the future workshops?
Any suggestion or critic from your behalf?